Junior Kindergarten
The Path for Young 5-Year-Olds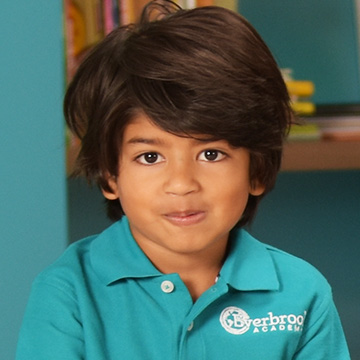 This early education program at Everbook Academy is designed for older 4-year-olds and young 5-year-olds. We introduce the format and structure of a day in kindergarten, as children develop critical skills for elementary school. Junior Kindergarten provides a bridge, as children gain the independence and confidence to transition to a kindergarten classroom.
Featuring award-winning and nationally recognized curricula, this program offers kindergarten-level lessons in reading, writing, and math. Children's development is guided by important indicators in these seven developmental scales:
Language and Literacy: Children develop reading, writing, and communication skills through stories, reading, and emergent writing. They combine sounds and name all letters in the alphabet.
Math: Children learn to count, identify numerals, add, subtract, and measure. Patterns, sorting and ordering, and geometry are also explored.
Nature and Science: Children build skills in observing, describing, predicting, and gathering data to further their understanding of the natural and physical world.
Social Studies: Children explore and deepen their understanding of themselves, their family, their community, and the world around them.
Creative Arts: Children engage in movement, music, visual arts, and drama experiences as they learn to express their ideas and their feelings.
Physical Development and Health: Children continue to develop large and fine motor skills as they navigate their environment; develop their understanding of nutrition and health.
Critical Learning Skills: Children learn to sustain their attention, follow routines, self-regulate, find different perspectives, follow complex directions, and communicate effectively.
Search for schools in your area to learn more about the programs offered at your local Everbrook Academy.
Note: Children must complete Pre-K prior to enrollment.