Growing, Learning, Connecting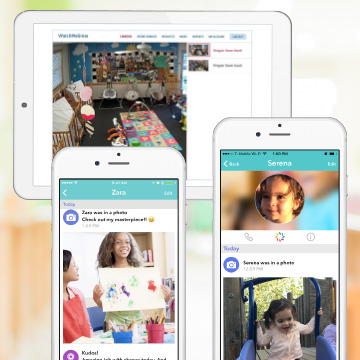 We all know parents want to be with their children all the time, as much as possible. That's why we work to make sure you won't have to miss a single special moment or milestone.
Live Streaming Video
Keep an eye on your child. View live streaming video of their classroom from any smart device or computer. Wherever you are, whatever you're doing, you have a window to experience your child's day with them.
Live streaming video
Encrypted and tightly controlled
Every account authorized individually
Intuitive and easy to use
Note: Live streaming video is visual only, no audio.
Family Communication App
With our app for parents, you'll receive real-time photos and updates about your child's day, wherever you are.
Receive photos and videos
Kudos: Teachers have the ability to quickly share out "wow" moments
Milestone and learning updates from your child's teacher
Here are a few more highlights of the app:
Parents can share access with other people, such as grandparents
Easily share photos through text messages and emails
Past updates don't expire; simply scroll down to relive favorite memories
We ensure a high level of security, so you know your updates are private, visible only to you and any other recipients of your choosing.
Don't forget: The enhanced digital experience of our SproutAbout™ app is coming soon!
Note: Technology offerings vary by school. Ask your school director for details.