Junior Kindergarten
The Path for Young 5-Year-Olds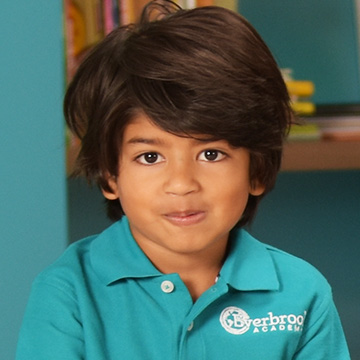 This early education program at Everbook Academy is designed for older 4-year-olds and young 5-year-olds. We introduce the format and structure of a day in kindergarten, as children develop critical skills for elementary school. Junior Kindergarten provides a bridge, as children gain the independence and confidence to transition to a kindergarten classroom.
Featuring award-winning and nationally recognized curricula, this program offers kindergarten-level lessons in reading, writing, and math. Children's development is guided by important benchmarks in these five development areas:
Language and Literacy: Children develop reading, writing, and communication skills through stories, reading, and emergent writing.
Math: Children learn to count, identify numerals, add, subtract, and measure.
Science and Social Studies: Children continue to develop respect for diversity, family, and community, as well as using the scientific method to explore the world around them.
Self-Help and Social Skills: Children learn to cut with scissors, hold a pencil with proper grip, follow classroom routines and procedures, set and achieve goals, and respect the rights of others.
Physical and Creative Development: Children continue to develop large and fine motor skills and to express themselves through music, dramatic play, and visual arts.
Along with key kindergarten learning experiences, this program features a strong focus on:
Following multi-step instructions
Finding multiple ways to solve problems
Setting goals and working to achieve them
Controlling impulses and sustaining attention
Search for schools in your area to learn more about the programs offered at your local Everbrook Academy.
Note: Children must complete Pre-K prior to enrollment.