Healthy Choices, Healthy Kids
Staying Healthy with Grow Fit®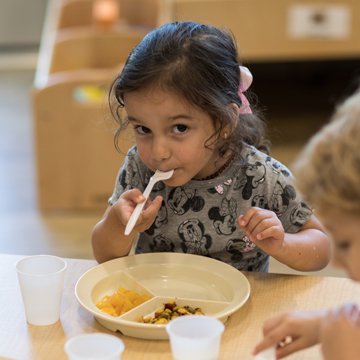 Our unique Grow Fit initiative ensures the complete well-being of your growing child through:
Healthy Living | Nutritious Eating | Physical Fitness
In collaboration with the Partnership for a Healthier America, the goal of this program at Everbrook Academy is to help children develop healthy habits for a healthy future.
Outdoor Fun
Growing bodies find space to move and explore on our playground and age-appropriate playscapes. Your child will love the exciting play areas—including basketball—while you'll love the soft turf surfaces and safe equipment.
STEAM-inspired play systems and components offer energetic, challenging activities for children to develop their skills and abilities while having fun with friends.
Healthy Eating
While physical activity is essential for growing children, so is healthy eating. That's why our enhanced Grow Fit menu features selections—for breakfast, lunch, and afternoon snack—approved by a registered dietitian nutritionist.
Just like you, we want the healthiest choices for your child to meet their daily nutritional needs. That's why we serve:
Fresh fruits and vegetables
Organic milk
Foods with whole grains and plenty of vitamins
Vegetarian selections
Veggies Early and Often
We're on a mission to help raise the next generation of veggie lovers. Did you know only 10% of children in the U.S. consume the daily recommended amount of vegetables? That's why our school has partnered with the Veggies Early and Often campaign led by PHA. Here's what we're doing:
We've added more vegetables to our menus.
We now offer two vegetables at lunchtime, each Friday.
We provide vegetable options for infants at breakfast and snack.
We encourage children to try new flavors, more than once!
In total, 26 different vegetable varieties appear on our children's menu!
Nutritional Education
In our classrooms, teachers integrate healthy eating and physical activity into daily lessons. For example, these experiences may include:
Sharing books that present a positive view of healthy eating and physical activity
Teaching health lessons, in subjects such as "energy balance," or how much food/calories eaten vs. what is used up by your body each day
Using models or toys of fruits, vegetables, and other healthy foods for pretend play
Feeding Infants
When it comes to nourishment for the littlest children in our care, we adhere to on-demand, infant-led bottle feeding schedules. We learn their needs to know:
When to feed
How long to feed
How much to feed
In addition, we support breastfeeding moms by providing space for mothers to nurse or provide their expressed milk throughout the day to their child.