Before and After School Care
Morning and Afternoon Programs for School-Age Students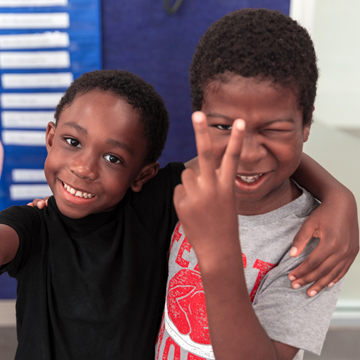 For school-age students at Everbrook Academy, mornings and afternoons are engaging and active, in a collaborative, interactive, and social classroom space. There are five before- and after-school clubs:
Before School


We set children up for productive school days through an effective morning routine that helps them define their goals for each day.
After School


Student-led activities and large-group experiences in team-building games promote collaboration and self-reflection.




Physical challenges and large motor, team-building games keep kids fit and healthy.




We encourage organization, responsibility, and self-awareness with tools and resources for students, as well as peer mentoring, all in a structured, supportive environment for doing homework.



Students work with their teachers to develop long-term projects around issues that are important to them and their community.

These five clubs keep school-age students busy and engaged throughout the mornings and afternoons, with a strong focus on group dynamics, homework support, and character development. Your child will love this special "me time." While learning, playing, and growing, their sense of character will be strengthened in five key areas:
Compassionate me | Capable me | Courageous me | Healthy me | Social me
The exclusive My Best Self!™ program for school-age students encourages:
Daily goal setting
Team-building activities
Community projects
Physical fitness
Transportation may be available to and from local elementary schools.