Private Kindergarten Program
Small Class, Big Opportunity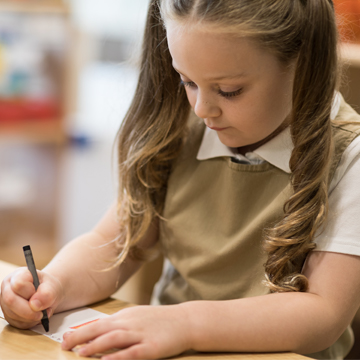 The upcoming school year is approaching fast, and still, many questions remain. Was your child scheduled to enter kindergarten? What will it look like in your school district? Concerned on how to proceed? Consider Private Kindergarten. In a small class, your child has a big opportunity to receive dedicated attention from a qualified teacher, during five full days of in-school learning, featuring nationally recognized kindergarten curriculum, with a focus on:
Independent reading
Writing to communicate ideas
Number knowledge, operations, measuring, and geometry
Using the scientific method to study the world
Comprehensive Curriculum & Knowledge Areas
A state-certified teacher and a small, inclusive classroom setting await your child in Private Kindergarten. With nationally recognized, research-based curricula, your child gains a strong foundation to be prepared for first grade the following school year. Academic and learning experiences explore Literacy & Language, Math, Social Studies, Science, and Self-Help & Social Skills. Their progress is monitored and recorded across these five key knowledge areas.
Literacy & Language: Children will focus on phonemic awareness, comprehension, and letter recognition, in large and small group instruction, as well as independent learning centers. Skill development is focused on understanding story concepts; understanding how print works; understanding how words are built; writing development; expressing ideas clearly; and vocabulary.
Math: Real-life situations illustrate math concepts, as children develop their problem-solving and critical thinking skills. Math is approached through five different modes of learning: Whole Group Instruction, Collaborative Learning, Small Group Instruction, Adaptive Learning, and Independent Practice.
Social Studies: Sharing personal experiences, family stories, and traditions, enables students to develop important skills such as understanding time and place, respecting others, and gaining a deeper understanding of the world around them.
Science: The scientific method is explored to help children gain skills in areas such as observing local weather conditions; describing patterns over time; and discovering animals, plants, and the environment.
Self-Help & Social Skills: Self-Help and Social Skills play an essential role in kindergarten. These skills include holding a pencil with a proper grip; using scissors to cut pre-formed shapes; following directions; working independently; asking for help as needed; recognizing and following classroom routines and procedures; independently attending to personal care; understanding another's point of view; showing conflict resolution skills; and respecting the rights of others.