Summer Camp
Summer Programs at Everbrook Academy
Make new discoveries. Make new friends. Make your summer happen here.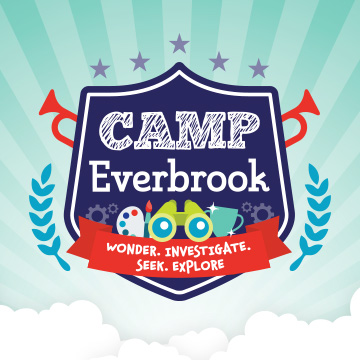 Spend your summer at Camp Everbrook! Campers enjoy fun and learning all summer long, with a variety of weekly camp themes and interesting visitors. With our theme experiences, you can be an artist. Explorer. Zoologist. Time traveler. Or anything you want to be.
Our all-day camp features healthy meals and snacks. Plus, campers receive a camp sling bag, T-shirt, and water bottle for summer adventures!
Find a Everbrook Academy school near you today for full details!
Camp Everbrook Themes (Ages 5 and Up)
Young Zoologists: Take a walk on the wild side! Discover a variety of animal species and their habitats. Become a fan of furry friends as you learn to respect all creatures in the animal kingdom.


Adventures in Time: What would you do with a time machine? Discover the past with activities and games from different time periods, while you investigate changes and innovations that shaped our culture.
Art Expo: Gain an appreciation for different art forms, while you explore a variety of mediums and modes of expression. Express yourself and create a masterpiece with your imagination and creativity.
Camp Everbrook for Preschool and Pre-K
Summer fun and exploration is not just for older kids. Our summer program for 3- and 4-year-olds features fun activities, visitors, special projects, and themes such as:
Science Squad: Enter the lab and do some experimenting as you learn all about the Scientific Method. Result: All kinds of fun and learning!
Movers and Shakers: Get moving, and get healthy, with this exciting exploration of exercise and fitness.
Down on the Farm: Get a taste of the agricultural life with this hands-on peek into the world of farming.
Kindergarten Cadets (Exclusive for Pre-K children): Make sure your child is ready for the fall with hands-on, project-based learning. In this special 2-week program at the end of the summer, they'll dive into kindergarten skill development (such as math and literacy), while discovering new routines, such as hallway, lunch, and bus etiquette.
More Summer Fun For Younger Ones
We haven't forgotten about toddlers and 2-year-olds! Discover great child care and exciting summer fun for these age groups, too! Forget regular daycare: Give your child the chance to learn and grow throughout the summer with fun-themed activities and special guests.
Note: Age range and programs may vary by school.