Technology at Everbrook Academy
Connected. Engaged. Inspired.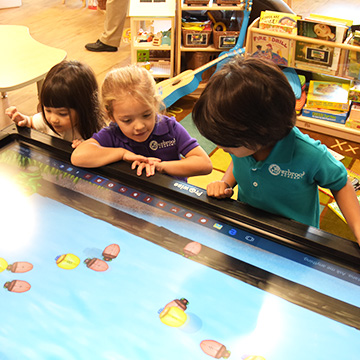 We're committed to keeping pace with advancements in technology, to ensure the best in education, resources, and security for your child—and your family.
Mobile App: Stay Connected For Precious Moments
We all know parents want to be with their children all the time, as much as possible. Now, we're working to make sure you won't have to miss a single precious moment. With our mobile app for parents, you'll receive real-time photos and updates about your child's day, wherever you are.
Receive photos and videos
Kudos: Teachers have the ability to quickly share out "wow" moments
Milestone and learning updates from your child's teacher
Here are a few more highlights of the mobile app:
Parents can share access with other people, such as grandparents
Easily share photos through text messages and emails
Past updates don't expire; simply scroll down to relive favorite memories
We ensure a high level of security, so you know your updates are private, visible only to you and any other recipients of your choosing.
The Benefits of 21st Century Technology
We use developmentally appropriate technology for powerful learning experiences. This is not passive screen time. These active experiences are designed and overseen by our early childhood education experts to develop collaboration and communication skills, and help children grow as learners.
Curated educational software
Teacher-led, small-group activities
Activities that build critical thinking, early math, and problem-solving skills
15 minutes per day at Technology Learning Center (if child chooses)
When your child is here, they are using technology in responsible ways that prepare them for elementary school and beyond. Classroom technology experiences may include:
Preschool and Pre-K
Interactive table for collaborative, social digital learning experiences
Tablets with age-appropriate educational apps and games
Basic coding lessons, as well as robotics toys
Before- and after-school clubhouse for school-age students
Students can learn programming and coding
Engineering and robotics skills developed
Family Link: Making Your Life Simpler
Family Link is our exclusive, user-friendly online resource to manage personal information and financial commitments. With Family Link, you can quickly and easily:
Make payments online.
Set up automatic payments.
View your statements.
Verify and update your family information.
Update your financial information.
Read news and announcements.