Twos Program
Encouraging Development and Mobility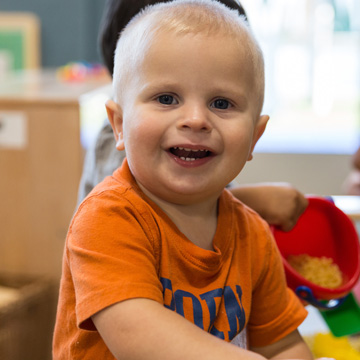 There is no such thing as a typical 2-year-old. The Everbook Academy classroom is designed to meet the needs of our most active little learners, as they discover new ideas and experiences as individuals.
Learning experiences continue to follow our exclusive Learn from the Start™ curriculum, as we ensure that children are meeting important milestones in five development areas:

Physical Development and Health: Children develop increasing awareness of health and safety concepts.
Language and Communication Development: Children develop the ability to communicate effectively using oral and written language; to understand and respond to communication of others.
Cognitive Development: Children develop the ability to think critically and creatively and to understand their world.
Approaches to Learning: Children become more independent.
Social-Emotional Development: Children develop the understanding of their relationships with others such as family, friends, and community members.
We continue to strengthen their foundation for STEAM learning, with designated classroom areas that encourage (and reward) curiosity, exploration, and discovery:
Art & Science
Math & Engineering
Language Arts
Music & Movement
Dramatic Arts
Search for schools in your area to learn more about the programs offered at your local Everbrook Academy.